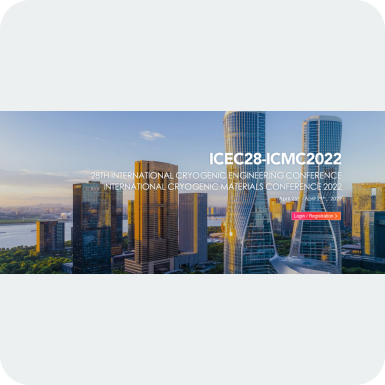 Dear Colleagues:
On behalf of the ICEC-ICMC committees and Zhejiang University, it is our great pleasure to invite you to the 28th International Cryogenic Engineering Conference and International Cryogenic Materials Conference 2022 (ICEC28-ICMC 2022), to be held as an immersive virtual conference between 25-29 April 2022.
The ICEC28-ICMC 2022 is a premier international cryogenic conference, held every two years in Asia or Europe. The past two conferences, ICEC26-ICMC 2016 and ICEC27-ICMC 2018, took place in Delhi, India and Oxford, UK, respectively. The ICEC28-ICMC 2020, originally planned in Hangzhou, China, was cancelled due to the sudden outbreak of COVID-19, and further postposed to 2022.
Due to the unpredictable situation related to the pandemic, while considering the need for idea exchanges throughout the community, the ICEC-ICMC committees and the local organizing committee decided to hold the ICEC28-ICMC 2022 virtually. The conference will offer you the options of presentations, posters and exhibitions based on an immersive virtual platform (like metaverse), which is strongly interactive and immersive.
The main objective of the ICEC28-ICMC 2022 has been to bring together researchers from R&D institutions, universities and industries, to stimulate fruitful exchange and dissemination of latest research and knowledge on cryogenic engineering and materials.
If you are interested in attending or supporting the ICEC28-ICMC 2022, please find the attached flyers for further information on opportunities available.
Please feel free to forward this page to anyone who might be interested. https://bcryo.org.uk/icec28-icmc-2022-information-and-call-papers-and-sp...
We look forward to having the opportunity to welcome you at the ICEC28-ICMC 2022.
Conference dates: 25 April (Monday) - 29 April (Friday) 2022
Online platform: An immersive event platform (details to be announced)
Website: www.icec28-icmc2022.com
Important Dates
| | |
| --- | --- |
| Conference registration opens | 10 December, 2021 |
| Abstract submission opens | 10 December, 2021 |
| Abstract submission deadline         | 20 January, 2022 |
| Notification of abstract acceptance | 28 February, 2022 |
| Early-bird registration deadline | 25 March, 2022 |
| Conference registration deadline | 20 April, 2022 |
| Conference | 25-29 April, 2022 |
| Manuscript submission deadline | 10 May, 2022 |
Share