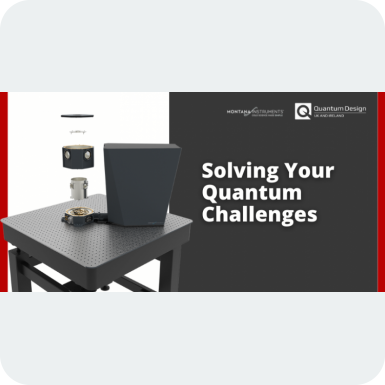 The CryoAdvance™ is  a 3.2k configurable, low-vibration, variable temperature environment to accelerate advances in quantum science
CryoAdvance™ is a low-vibration, cryogen-free system that allows users to access cryogenic temperatures in a 50mm (3.2K — 350K) or 100mm (3.4K-350K) sample chamber. A step up from the more entry-level CryoCore® (released in February of 2021), CryoAdvance™ achieves lower temperatures and vibrations, as well as allows for increased customisation.
"Whether you're an established principal investigator studying low-temperature phenomena in materials and devices or starting up a new lab, the CryoAdvance™ provides an easily accessible, tabletop environment with an intuitive touchscreen, and fully-integrated control architecture for quick and quality experimental results. It really is designed to be a foundational piece of equipment in almost all quantum laboratories."
Mark Carroll
CEO
Montana Instruments
Montana customers are changing the world through applications of quantum computing, quantum sensing, quantum networking, quantum education, and quantum materials research. Montana Instruments understands the cryogenic aspects of customers' quantum challenges. Building on over ten years of experience and CryoCore®'s launch earlier this year, CryoAdvance™ is the newest product in a growing line of cryogenic tools for quantum pioneers.
"Competitors may try to offer lower prices or highly-customised solutions, but no one can beat the performance, flexibility, or user-friendliness of CryoAdvance™"
Josh Doherty
VP of Engineering
Montana Instruments
CryoAdvance™ Features
Touchscreen user interface – displays real-time temperature status, temperature stability, and vacuum pressure readouts.
Optical + DC + RF – high optical access to the sample and ability to enable the most common techniques of sample interrogation.
Modular design – facilitates understanding of the product configuration and helps users arrive faster at a solution that fits their needs.
Vibration damping – configurable, low-vibration, variable temperature environment to accelerate time and achieve real results.
CRYOSTAT COMPARISON CHART
For more information follow the link: https://qd-uki.co.uk/solving-your-quantum-challenges/
Share