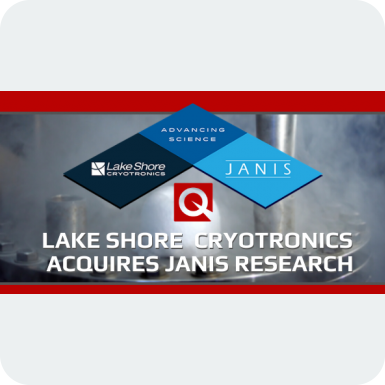 Quantum Design UK & Ireland Partner, Lake Shore Cryotronics, Has Acquired Janis Research
Deal combines the product portfolio and application expertise of two leaders in the cryogenic research market
August 2020; Leatherhead, Surrey
Quantum Design UK and Ireland (QDUKI), authorised channel sales partner of Lake Shore Cryotronics, announces the acquisition of Janis Research's Laboratory Cryogenics business by Lake Shore — a move that unites two of the world's leading providers of cryogenic and material characterisation solutions for low-temperature research.
The acquisition enables QDUKI  to offer Janis Research liquid nitrogen (LN2), liquid helium (LHe), and closed-cycle refrigerator (cryogen-free) cryostats, LHe and cryogen-free superconducting magnet systems, cryogenic and cryogen-free probe stations, and various lab cooling systems.
 "This is a great brand to bring under the Quantum Design UK and Ireland product portfolio," said David Want, Managing Director, QDUKI.  "The Janis range compliments our Cryogenics offering and the markets we serve very well."
Founded in 1961, Janis Research began as a manufacturer of LHe transfer lines and soon expanded its product offering to include cryogenic research equipment, ranging from simple LHe storage Dewars to sophisticated superconducting magnet and low-temperature systems.
Scott Azer, Janis Research's VP of Business Development, said, "We see many synergistic product opportunities ahead, combining Lake Shore's expertise in instrumentation, applications, and system engineering with Janis' strength in cryogenic system design and fabrication. We look forward to serving the scientific community even more effectively than before."
Visit www.qd-uki.co.uk for more information.
UK Contact: Angela Carslake +44 (0)1372 378822 angela@qd-uki.co.uk
Share