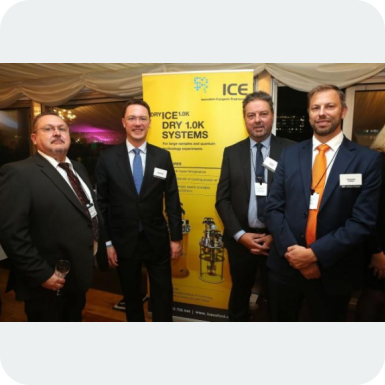 A PIONEERING firm in Oxford received a national award at a Parliamentary reception for its work in cryogenics.
ICEoxford, based in Witney, received one of five innovation awards from the Institute of Physics for the development of the 1.0 Kelvin Cooling Power Cryogenic System at the Business Innovation Awards 2017.
Representatives from the company received the award at the reception in London last month for their work that allows ultrafast computers to run at temperatures close to the 'absolute zero' temperature of -283C.
The awards are presented to businesses that have built success on the application of physics to increase turnover, profitability and jobs.
Chris Busby, managing director of ICEoxford, said: "It was a great honour to receive this award, which is recognition of the outstanding team at ICEoxford, who continue to produce world-class innovative products for the global cryogenic markets."
The cooling system developed by the company will enable ground breaking research which is expected to revolutionise computing over the coming decades.
Quantum computing is based on quantum bits or qubits. Unlike traditional computers, in which bits must have a value of either zero or one, a qubit can represent a zero, a one, or both values simultaneously.
Representing information in qubits allows the information to be processed in ways that have no equivalent in standard computing.
This means, theoretically, that quantum computers could solve certain problems in a few days that would take millions of years with current computers.
A requirement of research into quantum computing is handling large amounts of power while keeping the processor at an low temperature.
These are the conditions achieved with the systems developed by ICEoxford.
The firm's equipment can cool to ten-thousandths of a degree above absolute zero – the coldest temperature in the universe.
For more information on ICEoxford and its work visit iceoxford.com and 
http://www.iceoxford.com/News/ICE-Wins-Prestigeous-Award-for-Innovation---Oct-2017/424.htm
Stuart Rust, Witney Gazette
Image:  Chris Busby, managing director of iceOxford, second right, with Witney MP Robert Courts, second left, and staff at the awards. 
Share