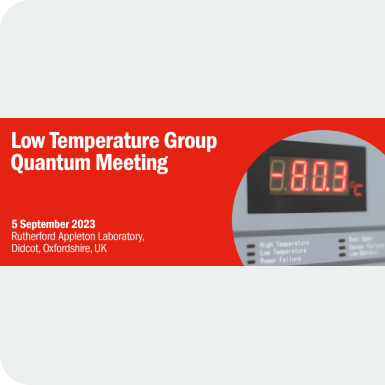 Rutherford Appleton Laboratory, Oxfordshire,
Low Temperature Group Quantum Meeting - Registration Deadline 23.08.23
This event is free to attend, but registration is required
  The aim of the workshop is to bring together a broad bridge of people from universities, national facilities and businesses interested in quantum technologies with low temperature physics. We have talks confirmed from members of all three communities. The goal is bringing together the science base who use low temperatures from early career researchers to those established in the field. As well as an invited talks we will enable an informal poster session for those wanting to share their results and interests.
Confirmed speakers include:
Michael Cuthbert, Director - NQCC
Morteza Erfani - SeeQC
Martin Weides - University of Glasgow
Lev Levitin - Royal Holloway, University of London
M. Fernando Gonzalez Zalba - QuantumMotion
Vivek Chidambaram - NQCC
Jonathan Burnett - Oxford Quantum Circuits
https://iop.eventsair.com/ltgq-2023 for more details
Registration deadline: 28 August 2023
Share