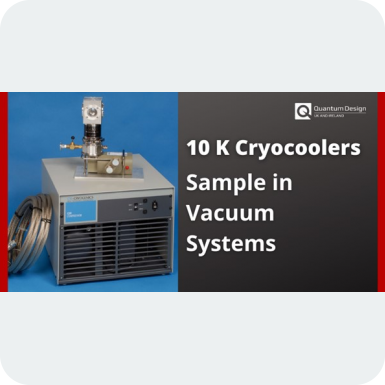 Janis Research (now under the Lake Shore Cryotronics umbrella) offers 10 K closed-cycle refrigerator (CCR) systems in a variety of configurations. Standard models include optical, non-optical, compact, subcompact, and rotatable vacuum shroud. The CCS-150 to 350 cryostat range starts at just £10,000+, making these an accessible and affordable option for your lab.
In addition to standard catalogue systems, Janis Research has complete custom design and fabrication capabilities. Their staff of physicists and engineers can design a system based on your specifications and requirements. They also maintain comprehensive records of previously built systems, and can often meet your requirements with an existing design.
Janis produces systems with high-temperature capability to 700 K, and low-temperature capability to <4 K. They also offer high-powered refrigerators for applications with large experimental or radiational heat loads.
Contact us to discuss a closed-cycle system designed to satisfy your particular experimental requirements.
ALL Janis cryostats are customisable to suit researcher needs.
Some typical applications include:
•          Cryogenic gas trapping
•          Large sample volume (see
Other configurations)
•          Matrix isolation
•          Neutron bombardment
•          Neutron scattering
•          UHV sample environment
•          Vibration isolated systems for microscopy
Read the full article here
Contact Shayz Ikram - 01372 378822
Email shayz@qd-uki.co.uk
Quantum Design represent Lake Shore Cryotronics in the UK and Ireland.  Visit us at www.qd-uki.co.uk
Share