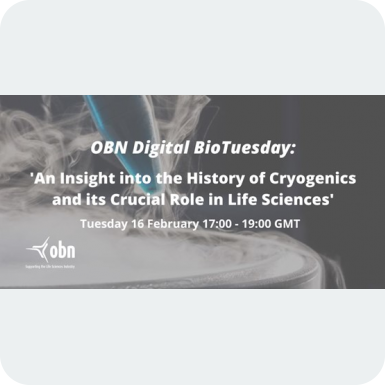 Tuesday 16 February 17:00-19:00
We would like to thank you for attending the OBN Digital Event: ''An Insight into the history of Cryogenics and its Crucial Role in Life Sciences'. We hope that the session was of value to you and your organisation. 
The event was recorded and we would like to share it with you, to view please click here.   
'An Insight into the History of Cryogenics and
its Crucial Role in Life Sciences' 
17.00 Welcome by OBN
17.05 Welcome and Introduction to the Cryogenics Oxford Cluster - 
John Vandore, Business Development, Harwell Science & Innovation 
17.15 The unique history of Cryogenics in the UK and the contribution it makes to the UK economy - Beth Evans, Chair of the British Cryogenics Council, founded in 1967 at the Royal Society to promote knowledge and interest in Cryogenics  
17.30 Cryogenics and the Pandemic - Erik Steinfelder, Biobanking Market Development Director, Controlled Temperature Technologies, Thermo Fisher Scientific, a world leader in serving science, with the mission to enable customers to make the world healthier, cleaner and safer.  
17.45 The Cold Chain Challenge - Amy Shortman, Director of Product Marketing, Overhaul, an intelligence-driven risk managment and real-time visibility platform that maintains cold chain integrity.
18.00 Cryogenics in the Future
18.15 Audience Q&A, hosted by John Vandore
18.30 Networking via the Remo Platform
19.00 Event Close
We look forward to welcoming you!
Best wishes
The OBN Team
Thanks to our Sponsors:

Share