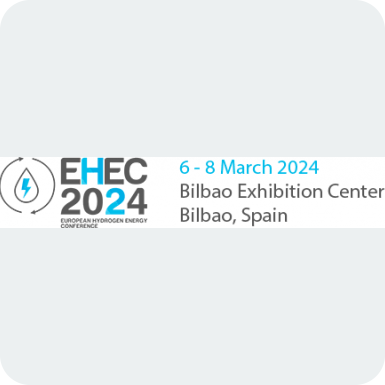 Update!
As the European Hydrogen Energy Conference is rapidly approaching, more and more companies and institutions are deciding to exhibit and/or sponsor the EHEC 2024. In this email, I extend a personal invitation to the conference because I believe your professional profile would be a valuable addition to the next edition of the EHEC. You can enjoy an early bird fee until Nov. 15th through this link.
Please be aware that the acceptance notifications for abstracts will start on October 15th via email.
Abstracts Report here: 
Last month, we received news that makes us very proud, and signals the strong support this conference has at a national level: King Felipe VI of Spain has accepted the role of President of the Honorary Committee.
We also enjoy significant international support, as demonstrated by our media partnerships with hydrogen-related institutions around the world. These include:
         The Argentinian Hydrogen Association (AAH)
         The Moroccan Association for Hydrogen and Sustainable Development
         Business Finland
         The Mexican Hydrogen Association
         Energética
         Hydrogen Europe Research
         H2 News
         Hydrogeit Verlag
         Eunoia
         The Spanish Technological Platform for Hydrogen (PTeH2)
         The Dutch Embassy in Spain
Furthermore, the number of entities supporting us through sponsorship is steadily growing, with the recent addition of FRF FONDON GROUP and PROTIO POWER.
The EHEC 2024 is welcoming new participants! 
We have been one of Europe's leading conferences in the hydrogen energy sector since 2005. We aim to provide a platform for knowledge exchange and networking, bringing together experts, researchers, and stakeholders from around the world on a biannual basis. The main organizer and promoter of our conference is the Spanish Hydrogen Association (AeH2).
The previous edition took place in Madrid in 2022, attracting over 1100 attendees, and hosting 200+ speakers, 50+ exhibitors, 4 plenary sessions, 36 parallel sessions, and 75+ posters. We also counted with the support of 40 sponsors representing the whole hydrogen value chain.
But we don't settle, and we are in the process of preparing the next edition. Please find below the last updates of the EHEC 2024!
For any further questions regarding the abstract submission process, please contact ehec2024@viajeseci.es or call +34 91 330 07 25.
Sponsors
New Silver Sponsors Iberfluid and Boll & Kirch!
We are pleased to inform you that two giants of the energy sector in Spain, Repsol & Petronor have joined the EHEC as Main Exclusive Sponsors, further demonstrating their strong commitment to hydrogen as a tool for decarbonization.
We have also confirmed the participation of the following exhibitors:
Alfa Laval | Ampo | Anisol | Arcamo Group | CNH2 | Cepsa | red H2CAT | Iberdrola | Ingeteam | Petronor | Repsol | Swagelok | Toyota | Tresca | Weh | Yokogawa
If you are interested in sponsoring and/or exhibiting at the EHEC, please contact:
susanaminarro@aeh2.org (+34 637 777090); or eventos@aeh2.org (+ 34 918 045 372 & +34 912 419 531) for more information on the available options.
Interested in participating in EHEC 2024? Contact our team and we will tailor a service to meet your specific requirements.
More information below:
Do you have a product, project or initiative you want to show to a highly segmented audience? Do you want to position your brand in one of the top hydrogen energy conferences in the world? Look no further! Contact us at:susana.minarro@aeh2.org 
The European Hydrogen Energy Conference (EHEC) is Europe's conference of reference in the hydrogen sector. Hosted every two years, EHEC is organized by the Spanish Hydrogen Association (AeH2) and brings together experts, researchers, and industry leaders in the field of hydrogen, providing a platform for sharing the latest advances, innovations, and developments in hydrogen-based technologies.
With a focus on promoting sustainable and clean energy solutions, EHEC seeks to play a crucial role in advancing the adoption of hydrogen as a clean energy source across Europe and the world.
EHEC provides an excellent framework for updates on hydrogen energy technologies. The perfect setting to showcase advances in R&D projects and products. It brings together the latest breakthroughs in research and business to stakeholders from a worldwide audience. Additionally, the conference facilitates the presentation of cutting-edge technologies in electrolysis and fuel cell science for strategic business collaborations to arise.
After the great success of the EHEC 2022, which saw over 1100 attendees and featured 200 + speakers from across the entire hydrogen value chain, we are proud to announce the next edition of EHEC, which will be held in Bilbao (Spain) on the 6th, 7th, and 8th of March 2024.
Why should you attend?
As we move towards a net zero world, hydrogen offers a promising energy vector to replace fossil fuels. The importance of hydrogen has been recognized by many countries, many of which have published or are presently developing their own hydrogen strategies.
At the European Hydrogen Energy Conference (EHEC), decision-makers, energy industry leaders, and cutting-edge scientists will gather to assess the latest challenges, opportunities, and lessons learned over the last two years in the fast-paced and rapidly changing sector of hydrogen energy.
Attending EHEC 2024 will enable you to:
Be part of the cutting-edge discussions that will shape the future of the sector.
Engage in networking activities with peers and build new partnerships.
Gain insight into the latest developments in the hydrogen value chain
 
EHEC 2024 will shelter a wide range of scientific, technological, and strategic sessions: plenary sessions on the most relevant aspects of worldwide strategies and technological developments, parallel sessions to present leading research breakthroughs, and poster presentations on cutting-edge research topics. Additionally, EHEC 2024 will host engaging side events and an exclusive trade fair, a space for industry and research institutions to promote their latest products and services.
­­­Sponsor or Exhibit at EHEC 2024!
The European Hydrogen Energy Conference (EHEC) 2024 will take place in Bilbao (Spain) on March 6, 7, & 8, 2024, at the BILBAO EXHIBITION CENTRE (BEC).

As one of Europe's leading conferences in the hydrogen sector, EHEC 2024 will provide the perfect opportunity to showcase your products and boost your brand's visibility to a highly targeted and specialized audience. 

Have you already decided to exhibit or sponsor at EHEC 2024? 
Members of the Spanish Hydrogen Association are elegible for great discounts!
Useful information
­Call for abstracts: 
ehec2024@viajeseci.es / +34 91 330 07 25
Sponsorships and exhibitors:
susanaminarro@aeh2.org / +34 637 777090
Find out more about EHEC 2024!
Visit the website
Spanish Hydrogen Association (Aeh2) 
Ronda de Poniente 15, 1ª planta Izda B
28760, Tres Cantos, Madrid, Spain
+34 91 330 07 25
Go to www.ehec.info for more information
Share