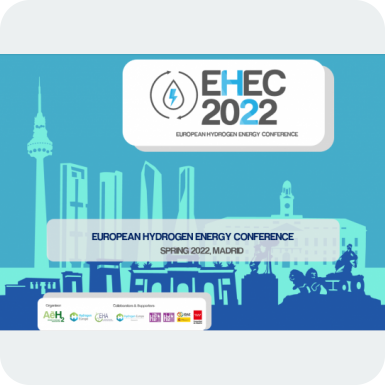 Call for Abstracts final results available :
Are you interested in attending EHEC 2022? Good news for you!
Click the link for details - EHEC 2022
EHEC 2022
Here we go again! We are pleased to inform you that the European Hydrogen Energy Conference (EHEC), organized by the Spanish Hydrogen Association (AeH2), will be held in Spring 2022, in Madrid.

As some of you may already know, the celebration of one of the most relevant events in the hydrogen and fuel cells sector had to be postponed due to the health crisis derived from the pandemic that began in early 2020. Since then, and despite social and economic consequences, the AeH2 has continued working fostering and promoting hydrogen and fuel cell technologies, acknowledging their benefits to the environment, our society, and our economy. Indeed, the hydrogen sector has managed to respond and consolidate itself as a more complete and adaptable energy alternative to the growing demand for decarbonizing the global economy.

The celebration of the Conference coincides with a sector's exponential growth phase at national and international levels, where it is appreciable a united common willingness to reach carbon neutrality and energy transition. Hence, we would be honored to count on your participation in 2022.

What will you find at the European Hydrogen Energy Conference?
Disseminating and promoting a generalized use of hydrogen technologies.
Bringing the latest breakthroughs in the research and business sector to the public eye.
Presenting cutting-edge hydrogen and fuel cells science and technology.
Fostering the exchange of scientific knowledge and facilitate networking.
Visit our web www.ehec.info and stay tuned for the latest updates. For more information, access the Conference's Brochure here.
Share