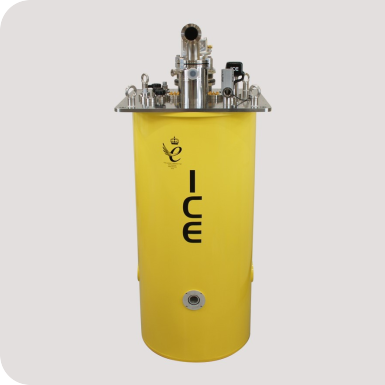 Our DRY ICE 1K Series achieves market-leading cooling powers, base temperatures, and hold times for a large sample space, closed-cycle cryostat. We don't want you to just take our word for it though, we asked Dr. David Rees, VP of Engineering at EeroQ Corp, to explain why they chose to buy from ICE and their experience working with us: 
I am a co-founder of a quantum technology company based in Chicago, USA. The technologies we develop in our laboratory involve superconducting circuits and superfluid electron substrates. in our R&D process, it is essential to characterize devices at temperatures close to 1K using cryogenic components of considerable mass, and with quick turnaround times. These requirements led us to purchase the ICEoxford DRY ICE 1K system in March 2022. The system was delivered in October, with on-site installation completed by an ICEoxford engineer in November.
I am very impressed by the performance of our system. In particular, the efficient utilization of the cooling power available from the GM cold head allows us to cool to a base temperature of 1.1K in a little over 12 hours. Temperatures below 1K are then easily attainable in '1shot' mode. Once at base temperature, the cryostat performance is extremely stable, with no adjustment of the needle valve impedance necessary. The warm-up time is also short, thanks to heat switches mounted between the cold stages, meaning that we can in principle turn around experiments in just over 24h hours. The experimental space is large, allowing us to mount several experiments simultaneously. The wiring for both dc and RF signals was installed according to our specifications. The anti-vibration mechanism works well, with a marked drop in vibrations transmitted to the cryostat when the damping bellows are inflated.
Throughout the procurement, installation and initial testing of the system, ICEoxford have responded to our queries and requests in a very timely and knowledgeable manner. I have been very impressed with the experience and technical knowledge of their staff. I am not aware of the other closed cycle4He cryostats on the market that are capable of achieving such low base temperatures with such rapid cool-down times. I would therefore not hesitate to recommend the ICEOxford Dry Ice 1K cryostat to any researchers working at temperatures down to 1K.''
Dr. David Rees
VP Engineering, EeroQ Corp. 
See more at iceoxford.com
Share