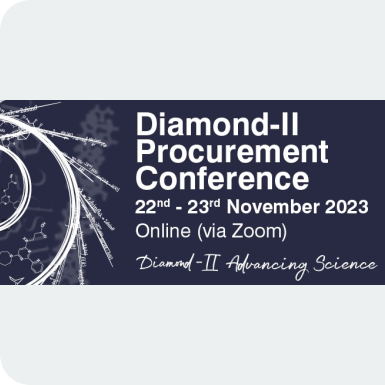 Join us for the first Diamond-II Procurement Conference, taking place online (via Zoom) on Wednesday 22nd and Thursday 23rd November 2023.
 
Diamond Light Source is seeking the best suppliers to support the Diamond-II project. If you are a company providing goods or services that could be useful to our upgrade make sure you don't miss this event. Join us and help us deliver the brightest science!
 
The event will feature a number of speakers from the Science, Technical and Logistics areas, covering a variety of topics, including:
Machine engineering
Beamline engineering
Magnets
Vacuum systems and instruments
Insertion devices
Radiofrequency systems
Power supplies
Beam diagnostic systems
Accelerator and beamline controls
Optics
Logistics
Procurement
Beamline upgrades and new flagship beamlines.

Scientific aims and overall design
Beamline instrumentation
End stations
Sample environments
Detectors
Take a look at the programme here
How to join the event

The Diamond-II Procurement Conference is free to attend, but registration is mandatory.
 Registrations are open until 17:00 (BST) on Monday 20th November 2023.
Email Diamond if you have queries. DLSSuppliers@diamond.ac.uk
Share