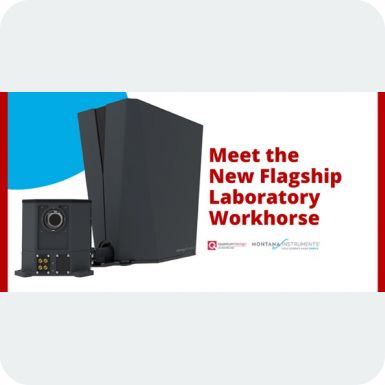 Montana Instruments Corporation Announces CryoAdvance
Meet the New Flagship Laboratory Workhorse
CryoAdvance™ takes the next step in advanced materials and quantum device characterisation.
It's been dubbed the next tier in cryogenics and promises to become a foundational piece of gear for your laboratory. We're really excited to be promoting this here in the UK and Ireland exclusively through Quantum Design.
Features include:
Touchscreen user interface – displays real-time temperature status, temperature stability, and vacuum pressure readouts
Optical + DC + RF – high optical access to the sample and ability to enable the most common techniques of sample interrogation
Modular design – facilitates understanding of the product configuration and helps users arrive faster at a solution that fits their needs
Vibration damping – configurable, low-vibration, variable temperature environment to accelerate time and achieve real results
Quantum demands cold.
We know cold.
Find out more here
Montana Instruments manufactures high-precision electrical, optical, and cryogenic products for quantum computing, quantum education, quantum networking, and quantum materials research.
"Whether you're an established principal investigator studying low-temperature phenomena in materials and devices or starting up a new lab, the CryoAdvance™ provides an easily accessible, tabletop environment with an intuitive touchscreen, and fully-integrated control architecture for quick and quality experimental results. It really is designed to be a foundational piece of equipment in almost all quantum laboratories."
Mark Carroll, CEO, Montana Instruments
"Competitors may try to offer lower prices or highly-customised solutions, but no one can beat the performance, flexibility, or user-friendliness of CryoAdvance™.  Our customers are changing the world through applications of quantum computing, quantum sensing, quantum networking, quantum education, and quantum materials research, we understand the cryogenic aspects of their quantum challenges. Building on over ten years of experience and CryoCore®'s launch earlier this year, CryoAdvance™ is our newest product in a growing line of cryogenic tools for quantum pioneers."
Josh Doherty, VP of Engineering, Montana Instruments
To discuss your Montana application, contact our Technical Sales Engineer, Luke Nicholls luke@qd-uki.co.uk
READ the latest Montana Instruments case study "Using rare-Earth doped materials to characterise closed-cycle cryostats for QIS applications".
Montana Instruments, along with collaborators in the Department of Physics at Montana State University, are pleased to announce their participation in the Quantum Information Science and Engineering Network (QISE-NET). The program, funded by the National Science Foundation and managed through the Chicago Quantum Exchange, pairs graduate students pursuing careers in quantum science and engineering with partners in industrial and national labs. The goal of the program is to train and develop tomorrow's workforce of quantum scientists and engineers critical for the US to lead in quantum science and technology.   Read the full case study
UK Contact: Angela Carslake (44) 01372 378822 angela@qd-uki.co.uk
Share