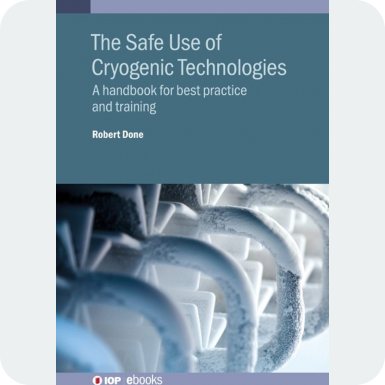 The Safe Use of Cryogenic Technologies
A handbook for best practice and training
Robert Done May 2021
The use of cryogenic materials within both research and industrial environments continues to grow as new technologies gradually embrace the discipline. As these developments establish in more facilities around the world, there will be a consequential increase in the likelihood of cryogenic accidents happening. As the temperature range of cryogenic technologies has potential life-threatening significance to the human body, a greater awareness of the associated risks and how to mitigate hazards is crucial for their safe application. Reflecting and developing on best-practice guidance in the British Cryogenics Council's "Cryogenics Safety Manual", this book will explore these recognisable hazards along with the vast assortment of regulations which apply to the use of cryogenic materials.
Key Features
Focuses on the identification of the hazards associated with the use of cryogenic materials and how to mitigate their impact through the preparation of comprehensive risk assessments.
Written by an experienced engineer in the field of cryogenic safety; the author regularly presents cryogenic safety training.
Covers a practical safety handbook for scientific and industrial users of cryogenic technologies in both research and industrial environments.
Contains extensive references that will aid further research and study.
About the Author
Robert Done began his career as a mechanical engineering apprentice for UKAEA at Risley in Cheshire. On graduating, he joined the Science and Technology Facilities Council (STFC), working first at their Daresbury site in Warrington and eventually moving to the Rutherford Appleton Laboratory in Oxfordshire. For the past 30 years, Robert has been providing the mechanical engineering support for the neutron spallation source at the site, designing equipment which provides the experimental environment for user-provided test samples. Much of this equipment operates at cryogenic temperatures. Robert routinely presents a series of cryogenic training courses for both internal and external clients. He is also a lead auditor for the STFC's safety auditing team.
Hardback ISBN: 9780750331210
Ebook ISBN: 9780750331234
DOI: 10.1088/978-0-7503-3123-4
Publisher: Institute of Physics Publishing
For more details click:
IOPP: Title Detail: The Safe Use of Cryogenic Technologies by Robert Done (ioppublishing.org)
Note: There is a discount for current paid up Individual Members.  Please email [email protected] for the discount code
Share