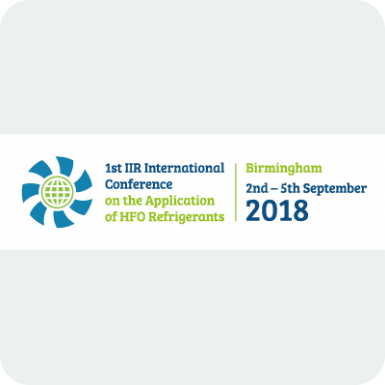 IIR International Conference on the Application of HFO Refrigerants – deadline for abstracts extended
There is still time to submit your abstracts for the inaugural IIR International Conference on the Application of HFO Refrigerants with an extended deadline of the 20 October 2017. Visit www.ior.org.uk/hfo2018 for full details.
This three day conference will provide up to date information and technical papers on the experience and use of the new family of A2L refrigerants known as HFOs. Papers exploring and reporting on the conference themes are invited, themes include:
characteristics of HFO refrigerants 
design issues for systems, components and controls
safety issues (flammability risk analysis, design considerations, operating experience)
legislation, codes of practise and standards
responsible use and environmental considerations 
To be considered for the conference programme submit a 150 word abstract at www.ior.org.uk/HFO2018 by the 20th October.
The organisers would particularly welcome abstracts for papers which showcase UK and international innovation and practical case studies of how HFO refrigeration technology is being introduced and used.  Papers that compare and contrast HFOs with other with other low and moderate GWP fluids such as ammonia, CO2, hydrocarbons and R32 will also be considered.
The event will take place at IET Birmingham Austin Court between 2 and 5 September 2018. This conference will provide an opportunity for the scientists developing new working fluids to meet with the design engineers who provide products and the system installers who use them, together with representatives of the end-user community who get first-hand experience of these scientific and technical decisions.  It will be a unique chance for these groups to interact in a forum specifically focused on the practical aspects of developing these new refrigerants
Further information on the conference and call for papers is available at www.ior.org.uk/HFO2018
Share